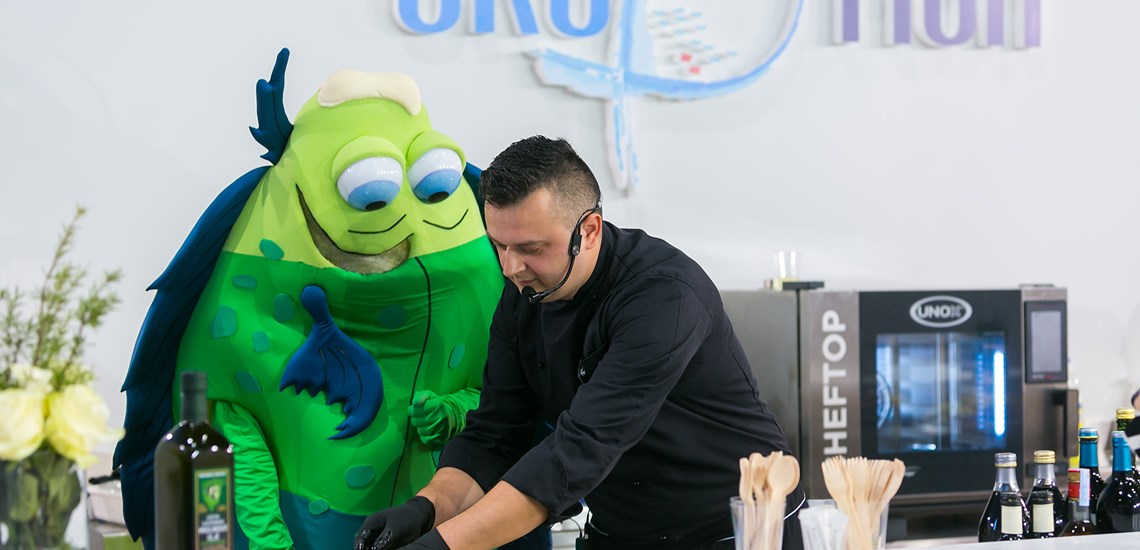 GOURMET EVENTS
This year's edition of Crofish will be enhanced by the aromas and tastes of the sea and seafood delicacies. Throughout the fair, visitors will be able to taste fish and seafood specialties prepared by top Croatian chefs.
Celebrated chefs from renowned Istrian and Zagreb restaurants will showcase their skills and prepare specialties including sea urchin roe, sea bass, tuna, shrimp, scallops, gilt-head bream, red mullet, piper gurnard, mussels, squid, cuttlefish and many other seafood dishes.
It will be an opportunity for all foodies and lovers of the sea to taste unusual and some long-forgotten seafood delicacies. Presentations and food tasting will take place inside the hall and in the outdoor exhibition area. Hundreds of free portions of fish and seafood dishes will be prepared for visitors every day. The gourmet events will take place according to the schedule below.
FRIDAY, 25 November 2022
COOKING SHOW, ŽATIKA SPORTS HALL - INDOOR
12:00 – 15:30         Gianpaulo Sardot, Peterokutna Kula restaurant, Poreč
16:00 – 19:00         Livio Janko, Tropic hospitality establishment, Savudrija
COOKING SHOW – PP ORAHOVICA, ŽATIKA SPORTS HALL - OUTDOOR 
13:00 – 14:00         Arpad Šipec, freshwater fish tasting (fis paprikas, carp on forks)
17:00 – 18:00         Arpad Šipec, freshwater fish tasting (fis paprikas, carp on forks)
SATURDAY, 26 November 2022
COOKING SHOW, ŽATIKA SPORTS HALL - INDOOR
10:00 – 13:00         Region of Calabria (Lo Stoccafisso di Mammola)  
13:00 – 16:00         Domagoj Barišić, Bare Tavern, Funtana 
16:00 – 19:00         Emanuel Melon, Kantina Melon, Petrovija
COOKING SHOW – PP ORAHOVICA, ŽATIKA SPORTS HALL - OUTDOOR 
13:00 – 14:00        Arpad Šipec, freshwater fish tasting (fis paprikas, carp on forks)
17:00 – 18:00        Arpad Šipec, freshwater fish tasting (fis paprikas, carp on forks)
SUNDAY, 27 November 2022
COOKING SHOW, ŽATIKA SPORTS HALL
10:00 – 14:00         Dean Gluhak, freshwater fish promotion  
14:00 – 17:00         Saša Pribičević, Tekka by Lone Japanese restaurant, Rovinj  
COOKING SHOW – PP ORAHOVICA
12:00 – 14:00         Arpad Šipec, freshwater fish tasting (fis paprikas, carp on forks)